INTELLIGENT SYSTEM MANAGEMENT IN A SLEEK DESIGN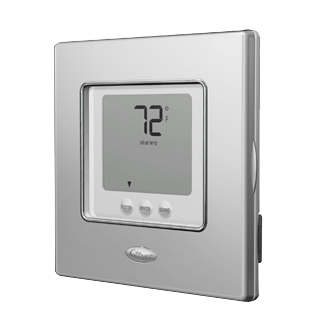 This versatile and beautiful Edge thermostat can manage any Performance™ or Comfort™ series system. Its slim, wall-hugging design1 gives you up to seven faceplate color options so you can customize your look.
It allows simple, Touch'N'Go programming for one-button, energy-saving, quick settings when you're on the go or ready for sleep.
It's capable of managing temperatures, humidity, ventilation, airflow and indoor air quality. And, if your system includes a heat pump and a furnace, its advanced features can orchestrate Hybrid Heat® system performance too.
1Display module is .8″ deep and can be attached directly to the wall when its control module portion is installed on furnace or fan coil.
Control Type
Humidity Sensing, Touch 'N' Go®, Programmable
STANDARD FEATURES
Intuitive, on-screen prompts
One-button Touch'N'Go quick-settings-change feature
Large, illuminated display shows inside and outside1 temperatures and time
Comes with attractive silver faceplate
Ideal Humidity System® management capable for better comfort
Hybrid Heat® system management capable
Intelligent, heating- and cooling-comfort staging capable
Auto changeover between heating and cooling
Ventilation management capable
Timed filter, UV lamp and/or humidifier panel replacement reminders
Outside air temperature sensor
10-year parts limited warranty2
OPTIONAL FEATURES
Individual faceplate options in gold luster, saddlebrush, onyx, espresso, natural grain and quartz colors
Application of remote sensor to feed information to the main control from a different location
1Depending on system, may require outside sensor installation.
2To the original owner, when product is used in an owner-occupied residence, a 10-year parts limited warranty upon timely registration of your new equipment. Warranty period is 5 years if not registered within 90 days. Jurisdictions where warranty benefits cannot be conditioned on registration will automatically receive a 10-year parts limited warranty. See warranty certificate for complete details.
EFFICIENCY
Hybrid Heat® system management capable
PERFORMANCE
Excellent temperature management with intelligent system staging1
Ideal Humidity System® cooling dehumidification control capable
Manages humidification products
Ventilation management capable
Controls system airflow
Permanent system settings and 9-hour clock setting retention in case of power failure
TECHNOLOGY
One-button Touch'N'Go feature settings for home, away, and sleep
Simple system connection allows use with older Carrier system components
REQUIREMENTS
Battery free
Powered by connection to major system components
AESTHETICS
Sleek, functional design
Large, backlit LCD display
Silver faceplate included
Optional: choice of gold luster, saddlebrush, onyx, espresso, natural grain or quartz faceplate colors
1Requires compatible, staging capable heating and/or cooling equipment