IMPROVE YOUR EFFICIENCY AND COMFORT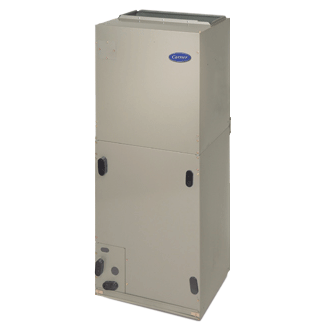 When it comes to saving on your energy dollars, moving cool air inside your home with a variable-speed fan coil can make a surprising difference. You can gain up to 2 SEER rating points on your air conditioner or heat pump efficiency.
You can also gain on comfort. Variable-speed enables better summer humidity control and more consistent air temperatures along with quieter operation. Less humidity also means you'll feel cooler at slightly warmer temperatures.
STANDARD FEATURES
Variable-speed blower for improved comfort and quiet operation
Capable of increasing cooling system efficiency by up to 2 SEER
Ideal Humidity® System technology capable
Thermostatic Expansion Valve (TXV) refrigeration management maintains proper flow to help insure reliable, efficient operation
Sloped, corrosion-free drain pan design helps reduce mold and bacteria build-up
Air purifier and humidifier compatible
Non-ozone depleting Puron® refrigerant
Fully insulated cabinet
Advanced temperature control
10-year parts limited warranty1
OPTIONAL FEATURES
Electrical-resistance heating packages available
ArmorCoat™ coil tin-plating for enhanced corrosion resistance
1To the original owner, when product is used in an owner-occupied residence, a 10-year parts limited warranty upon timely registration of your new equipment. Warranty period is 5 years if not registered within 90 days. Jurisdictions where warranty benefits cannot be conditioned on registration will automatically receive a 10-year parts limited warranty. See warranty certificate for complete details.
EFFICIENCY
Capable of SEER boost up to 2 rating points
Ultra low power consumption during fan only operation
PERFORMANCE
Summer dehumidification is blower motor enhanced
Sound: quiet operation
TECHNOLOGY
High-efficiency, variable-speed blower motor
Supplemental, electrical-resistance heating packages available for field installation
Thermostatic Expansion Valve (TXV) refrigeration management
Optional ArmorCoat™ tin-plating enhances corrosion resistance
Washable air filter
Recommended control: Performance Edge® relative humidity thermostat
CAPACITIES
INSTALLATION
Flexible installation: upflow, downflow or horizontal
REQUIREMENTS
AESTHETICS
20-gauge, galvanized steel cabinet pre-painted in taupe metallic