IN DUCT PROBE PROVIDES AGGRESSIVE IONIZED OXIDIZERS AND MULTI-CLUSTER IONS THAT ARE THEN DISTRIBUTED THROUGHOUT THE HOME OR OFFICE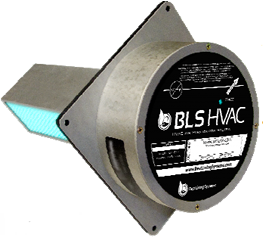 The BLS HVAC probe is designed to improve indoor air quality by dealing with pollutants in a proactive way. The probe is placed in the duct system in both the return and supply plenums to provide aggressive ionized oxidizers and multi-cluster ions that are then distributed throughout the home or office.
This patented MCI (multi-cluster ionization) Technology, using an enhanced ionization output, represents the newest generation of proactive air purification, is completely safe, unlike high levels of ozone, and effectively destroys mold, mildew, bacteria, viruses, odors, volatile organic compounds (VOCs) and the odors associated with them in the air and on surfaces.
When used as part of a wholistic solutions protocol, MCI provides a comfortable indoor air environment. It is best to place a BLS standard probe in the return plenum with an MCI probe in the supply plenum.
APPLICATIONS
Homes
Offices
Schools
Day-Care Facilities
Nursing Homes
RVs
Ambulances
Cruise Ships
MCI (Multi-cluster Ionization)™
Completely Safe for Humans and Animals
Cleans VOCs, Odors, Bacteria, Viruses, Mold and Particulates
Covers/Cleans Larger Area with Proactive Technology (reducing cost per cubic foot)
Helps Keep Duct System Free from Contaminants
Reduces "A" Coil Cleaning Maintenance

Cleaner Coil Provides More Energy Efficiency of System
Cleaner Coil Reduces Bio-Nesting
May Provide Less Frequent Filter Changes

Attacks Pollutants in the Air and on Surfaces
Models include 5", 9" and 14" come with or without boost enhancements and NO Ozone option. Models come in both a Standard version and an MCI(multi-cluster ionization) Enhanced version. MCI Enhanced version may be needed for larger duct systems or more heavily polluted environments.
5″ covers 6,000-7000 cubic ft
9″ covers 16,000-24000 cubic ft
14″ covers 40,000-48000 cubic ft