WATER TO AIR SYSTEM THAT WORKS IN COMBINATION WITH A FURNACE OR FAN COIL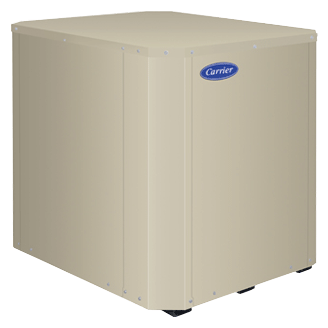 This outdoor unit represents the best of both worlds: geothermal efficiency that can be tapped into year round with the freedom to pair with and switch over to a separate furnace for times when outdoor temperatures warrant that added warmth.
The Carrier® GT-PE split offers high-efficiency performance designed to be coupled with a high-efficiency natural gas/propane furnace or air handler. It utilizes your furnace or air handler's blower motor to move air and offers the efficiency and comfort benefits of two-stage compression pharmacymg.com.
Perhaps best of all is the Federal tax credits still available on geothermal systems. You can revel in getting a tax credit of up to 30% of your installed cost of a geothermal system.
Heating Efficiency
Up To 4.7 COP (Closed Loop)
Cooling Efficiency
Up To 24.9 EER (Closed Loop)
STANDARD FEATURES
Compatible with many furnaces or fan coils
Two-stage scroll compressor for ultimate comfort and performance
Superior dehumidification and temperature control
Rugged, waterproof cabinet is insulated for quiet operation
Large operating temperature range
CXM Unit Performance Sentinel™ Control Board for precision operation
Non-ozone depleting Puron® refrigerant
10-year limited warranty
Limited service labor allowance1
OPTIONAL FEATURES
Supplemental hot water generation
Optional extended service labor allowance available2
1A 5-year limited service labor allowance covering repairs to the compressor and refrigerant circuit parts; a 2-year limited service labor allowance on all other unit parts, auxiliary electric heaters and geothermal pumping modules. See warranty certificate for complete details.
2Coverage varies by part. Ask your Carrier® geothermal expert for details.
EFFICIENCY
Closed loop cooling: Up to 25.8 EER
Closed loop heating: Up to 4.7 COP
Open loop cooling: Up to 30.1 EER
Open loop heating Up to 5.3 COP
ENERGY STAR® qualified1 in all sizes
PERFORMANCE
Summer dehumidification is compressor enhanced
Excellent cold weather performance
Hybrid Heat® system compatible
TECHNOLOGY
Two-stage scroll compressor
Sound enhancements: Fully insulated cabinet and double-isolation compressor mounting system
Performance Sentinel™ diagnostic intelligence
Recommended control: Infinity® control if installing with a Carrier® Infinity furnace or air handler
CAPACITIES
2-5 ton cooling
24,000-60,000 Btu/h heating
REQUIREMENTS
AESTHETICS
Heavy-duty, galvanized steel cabinet
Epoxy-coated in taupe metallic paint
1Proper sizing and installation of equipment is critical to achieve optimal performance. Split system air conditioners and heat pumps must be matched with appropriate coil components to meet ENERGY STAR criteria.