HIGH-TEMPERATURE HOT-WATER HEATING FOR RADIANT/HYDRONIC APPLICATIONS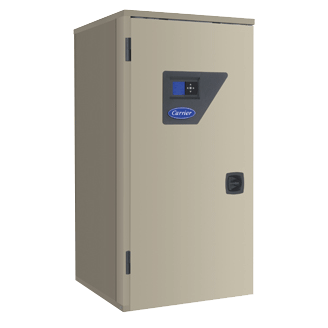 This heat pump delivers the hot water to heat your home and can provide for your domestic water needs, too. It's designed to produce higher water temperatures for demanding radiant/hydronic applications.
Carrier's GT-PW water-to-water model puts you in hot water in a good way and is up to five times more efficient than a traditional boiler. Euro-style cabinet design is pleasing to the eye with quiet operation that's just as pleasing to the ear.
Perhaps best of all is the Federal tax credits still available on geothermal systems. You can revel in getting a tax credit of up to 30% of your installed cost of a geothermal system.
Heating Efficiency
Up To 4.2 COP (Closed Loop)
STANDARD FEATURES
Designed for a wide range of radiant/hydronic applications (heating only)
Can alternatively be used as a dedicated domestic hot water source
Delivers water temperatures up to 145°F
Single-stage scroll compressor
Large operating temperature range
CXM Unit Performance Sentinel™ Control Board for precision operation
Built-in programmable controller with outdoor temperature reset and warm weather shutdown
Attractive, Euro-style cabinet
Non-ozone depleting Puron® refrigerant
10-year limited warranty
Limited service labor allowance1
OPTIONAL FEATURES
Supplemental, domestic hot water generation when used primarily for radiant/hydronic applications
Optional extended service labor allowance available2
1A 5-year limited service labor allowance covering repairs to the compressor and refrigerant circuit parts; a 2-year limited service labor allowance on all other unit parts, auxiliary electric heaters and geothermal pumping modules. See warranty certificate for complete details.
2Coverage varies by part. Ask your Carrier® geothermal expert for details.
EFFICIENCY
Closed loop heating: Up to 4.2 COP
Open loop heating Up to 5.2 COP
ENERGY STAR® qualified in all sizes
PERFORMANCE
Output: Up to 145°F heated water
Excellent cold weather performance
Sound: Quiet operation
TECHNOLOGY
Single-stage scroll compressor
Sound enhancements: Fully insulated cabinet and double-isolation compressor mounting system
Performance Sentinel™ diagnostic intelligence
Built-in programmable controller
CAPACITIES
REQUIREMENTS
AESTHETICS
Heavy-duty, galvanized steel cabinet
Powder-coated, taupe metallic paint
Hinged front door access